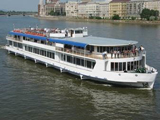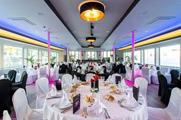 Budapest Danube Cruises
Day time and evening cruises with guiding
Day time and evening cruises with buffet lunch or dinner
Evening cruise with 4-course dinner, live piano music and a singer
Evening cruise with 4-course dinner, live gipsy music, folk program and operetta singer
Private cruises for groups

You can charter a boat in Budapest and enjoy a private cruise any time and any day during the whole year. Minimum length of the cruise is one hour, maximum length .. up to you. Whether you're on leisure or business trip in Hungary enjoy the city and the surroundings from the majestic Danube River!
1 hour cruise in the centre of Budapest with welcome drink
2-3 hour cruises in Budapest with rich buffet breakfast, lunch or dinner
Cruises to the most picturesque destinations outside the city like the Danube bend (Szentendre, Visegrád, Esztergom)
Any type of life entertainment available aboard e.g. gipsy music, jazz band, dance music, folklore program, dance performance
Special place for meetings - leisure and business ideally combined
A great option for company events, parties, upon request with all kind of extras
Please contact us for details and we will be more than happy to provide you with detailed information and prices.

BOOK THIS SIGHTSEEING CRUISE ONLINE NOW!