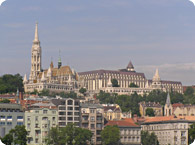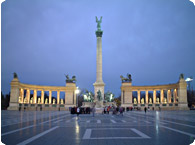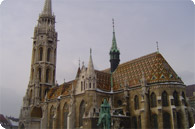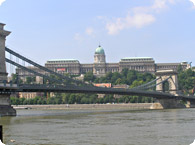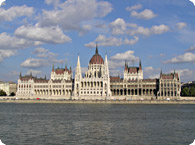 City tours in Budapest
Sightseeing tour in small group with only English speaking guide – 4 hours
Multilingual sightseeing tour – Budapest essential – 3 hours

Sightseeing tour in small group with only English speaking guide – 4 hours
The most personal bus tour in Budapest in small groups with only English speaking guides (no multilingual tours!)

This is the most personal, informative and enjoyable group tour of Budapest. Join the city tour guided exclusively in English to avoid the inconvenience of multilingual tours and enjoy the comfort of our small friendly groups. The tour is designed with an extended duration of 4 hours to include pleasant walks in between bus rides and to cover the sights which are not included in the usual 2–3 hour tours. Two fix departures daily. Free pick up from the hotel.

The route of the sightseeing tour:

City park (walk): Heroes' square, Vajdahunyad castle, Széchenyi Spa – Andrássy avenue – Opera – Synagogue of Dohány Street – St. Stephen's Basilica – Parliament – Castle district (walk): Matthias church, Fisherman's bastion – Gellért hill (walk), Citadel – Tour ends in the city centre

Price and departure times:

Adults: 8.500 HUF (approx. 33 EUR or 43 USD)
Children under 12: 4.250 (approx. 16.5 EUR or 21.5 USD)

In English every day at 10.00 a.m. and 2.30 p.m.
In German: every day at 10:00 am
In Italian: every Tuesday, Thursday and Saturday at 10:00 am
In Spanish: every Monday, Wednesdsay, Friday and Sunday at 10:00 am
In Russian: every Tuesday, Thursday and Sunday at 10:00 am

Free pick up

Sightseeing cruise and city tour – 2in1

Save and choose our 2in1 offer and complete your city tour with a day time or evening sightseeing boat trip on the majestic Danube River! (no pick up for the cruise)
City tour and day time cruise: 11.700 HUF (approx. 47 EUR or 60 USD)
City tour and evening cruise: 12.400 HUF (approx. 49 EUR or 63 USD)
Children under 12: - 50 %

Sightseeing cruise timetable
| | | | | | | | | | | | |
| --- | --- | --- | --- | --- | --- | --- | --- | --- | --- | --- | --- |
| Jan. – Feb. | | | 14.00* | | | 18.30* | | | | | |
| March | 11.00 | 12.30 | 14.00 | 15.30 | 17.00* | 18.30* | 19.30* | 20.15* | 21.00* | | |
| April | 11.00 | 12.30 | 14.00 | 15.30 | 17.00 | 18.30* | 19.30* | 20.15* | 21.00* | 21.30* | |
| May | 11.00 | 12.30 | 14.00 | 15.30 | 17.00 | 18.30* | | 20.15* | 21.00* | 21.30* | 22.15* |
| June | 11.00 | 12.30 | 14.00 | 15.30 | 17.00 | 18.30* | | 20.15* | 21.00* | 21.30* | 22.15* |
| July | 11.00 | 12.30 | 14.00 | 15.30 | 17.00 | 18.30* | | 20.15* | 21.00* | 21.30* | 22.15* |
| August | 11.00 | 12.30 | 14.00 | 15.30 | 17.00 | 18.30* | | 20.15* | 21.00* | 21.30* | 22.15* |
| September | 11.00 | 12.30 | 14.00 | 15.30 | 17.00 | 18.30* | 20.15* | 20.15* | 21.00* | 21.30* | |
| October | 11.00 | 12.30 | 14.00 | 15.30 | 17.00* | 18.30* | 19.30* | 20.15* | 21.00* | | |
| Nov. – Dec. | | | 14.00* | | | 18.30* | | | | | |
* No Margaret Island Tour

BOOK THIS SIGHTSEEING TOUR ONLINE NOW!
Multilingual sightseeing tour – Budapest essential – 3 hours
This sightseeing tour gives you a general overview of the Hungarian capital. The guide explains about the main attractions of Budapest in different languages, also in English (other languages available: German, French, Italian, Spanish). There are three stops during the tour, a walk in the castle district, a walk on the Heroes square and a photo stop on the Gellért hill. Two fix departures daily. Free pick up from the hotel.
The route of the sightseeing tour:
Castle district (walk): Matthias church, Fisherman's bastion – Gellért hill (photo stop) – Synagogue of Dohány street – City park: Zoo, Amusement park, Széchenyi spa, Heroes' square (walk) – Andrássy avenue – Opera – St. Stephen's Basilica – Parliament – Tour ends in the city centre
Price and departure times:
Adults: 6.500 HUF (approx. 26 EUR or 34 USD)
Children under 12: 3.250 HUF (approx. 13 EUR or 17 USD)
Every day at 10.00 a.m. and 2.30 p.m. in English, German, Italian, French and Spanish
Free pick up