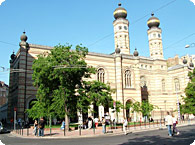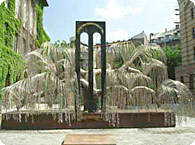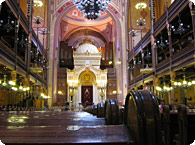 Budapest Sightseeing Tour: Jewish heritage tours
Jewish walking tour in group with English speaking guide
Private Jewish heritage tour with personal guide

Jewish walking tour in group with English speaking guide
This Jewish Heritage in Budapest sightseeing program is designed to acquaint you with the life, culture and history of the largest Central European Jewish diaspora.

Long tour (2,5 - 3 hours)
With the guidance of an English-speaking guide you will be introduced to the history and to the most beautiful monuments of the Jewish district of Budapest: the recently renovated Dohány Street Synagogue which survived the Second World War, the Jewish Museum, the Holocaust Cemetery, the Raoul Wallenberg Memorial Park and the Tree of Life. During our walk in the former ghetto area we are passing by the Carl Lutz Memorial, the Rumbach Street Synagogue, the Király Street, the Gozsdu Passage and the center of the orthodox Jewish community, the Kazinczy Street Synagogue.
After the approximately 2,5 hours tour, you can participate in an optional food tasting in a nearby restaurant where you will be offered a snack of traditional not kosher Eastern European Jewish dishes.

Short tour (1,5 hour)
Those guests who are short of time can take our Jewish Heritage Essential Tour where they will be offered to get acquainted with the most important chapters of the history of the Hungarian Jewry, by visiting the Dohány Street Synagogue, the Jewish Museum and the Holocaust Cemetery.
Departure times
Monday, Tuesday, Wednesday, Thursday: 10:30 and 13:30
Friday: 10:30
Sunday: 11:30
No tours on Saturdays and on holidays.

A taste of traditional Jewish food, not kosher:
Stuffed jellied carp, egg with onion, falafel dumpling with salad and pita, sholet with boiled egg, cakes (flodni, matzo-cake)
Prices:
Adults:
Long tour with food tasting: 29 Euro (41 USD)
Long tour: 25 Euro (36 USD)
Short tour: 11 Euro (15 USD)

Children and students:
Long tour with food tasting: 23 Euro (33 USD)
Long tour: 21 Euro (30 USD)
Short tour: 12 Euro (16 USD)
BOOK THIS SIGHTSEEING TOUR ONLINE NOW!
Private Jewish heritage tour with personal guide
Private tours are customized according to individual needs, preferences and provide the opportunity to experience the Jewish heritage in Budapest in a more intimate and personal way. You can also see places and monuments that are not covered during the usual group tours.
Please contact us for further information and prices.